The AffordAbility Fund
The Affordability Fund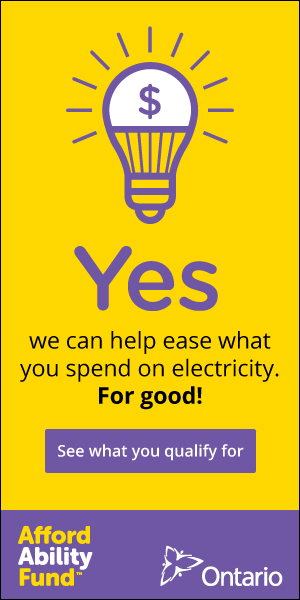 COVID-19 Update
Please be aware that due to COVID-19, we are experiencing delays in scheduling home visits and delivering upgrades. We assure you that you will receive your upgrades and appreciate your patience during this unprecedented time.
The Government of Ontario established a $100 million AffordAbility Fund to assist electricity customers who do not qualify for low-income conservation programs. The AffordAbility Fund is funded by an independent trust set up by the Government of Ontario and offered to you by local electric utilities like PUC Distribution.
This program helps Ontarians lower their electricity use and costs at home over the long term, easing the burden of electricity bills.
Frequently Asked Questions
Who determines what I am eligible for?
AFT calculates each customers household income and annual electricity bill, (only the electricity portion of your PUC bill). This will determine what each customer is eligible for.
I have already qualified for the Low-Income Energy Assistance Program (LEAP), the Ontario Electricity Support Program (OESP), and the Home Assistance Program (HAP). Do I qualify for this program?
Individuals who qualify for the Home Assistance Program, Low-Income Energy Assistance Program and the Ontario Electricity Support Program are not eligible for additional support or equipment offered by the AffordAbility Fund.
I live in social or assisted housing. Do I qualify?
Yes, if you pay an electricity bill and it is in your name, you may qualify for free energy-saving products including light bulbs, power bars and more. You may qualify for other levels of help as well.
Am I still on the list and how long is the program running for?
If you've signed up for the program, you are on the list. We recently got word that the program has been extended until December 31st, 2020. If you've applied for the program before this date, each customer will receive the level they qualify for.
If you've signed up on the AFT website and haven't received a call, you can call AFT directly at 1-855-494-3863 to make sure you're signed up. You'll need to have a few things ready for the phone call, including your income from last year (line 150 on your income tax) and your 12-month average electricity bill from 2018. Make sure to only give the average electricity portion for an accurate indication of your qualification. Once you've spoken to someone from the AFT Program, they forward your information along to us at PUC and we validate your application to confirm the accurate qualification level.
I haven't heard anything back from anyone, what level have I qualified for?
Everyone who applies for the program is validated within 2 days of us receiving their application. We had a 2-month delay during the summer months because of the increasingly high-volume numbers with applications, but we are now back on track. If you don't hear from a local contractor within the first few months after your trusted phone call with AFT, you likely qualify for level 1 and will receive an energy savings kit in the mail. If you have additional questions, our customer care team is happy to help assist you and answer any questions you may have.
I have moved – do I need to resubmit an application and what will happen to my existing application?
If you've moved, you will need to call AFT and update your address. Once your existing application is updated, we will proceed with your application.
I make too much money – do I still qualify?
The AFT program is not a low-income program. This program was designed to help everyone ease the cost of electricity and provide long-term solutions to Ontarians who are otherwise underserved by other energy assistance programs. If you're interested in a more accurate level of qualification, the website home page has an eligibility calculation you can fill out. Find out more at: www.affordabilityfund.org or contact their direct 1-800 line.
What do I do if I have problems/issues with the appliances I've received?
Each appliance comes with base level warranty. Contacting the number on the back of the user manual will give you accurate warranty information. We have a few different home appliance providers including General Electric (GE), Frigidaire and Moffat. The thermostat providers are either from Ecobee or STELPRO. Once you've contacted the provider, they will direct you accordingly, as the base warranty is different for each appliance.
How long until delivery of appliances?
The average delivery depends on your level of qualification. For example:
Level 1: 4 months
Level 2: 6 months
Level 3: 7.5 months
These average timelines may vary. There has been such a high number of applicants for the program that we've hired additional help focused solely on the AFT program in hopes of reducing these timelines. We ask for each person's patience and want to reassure everyone they will receive the level they qualify for.
Why didn't I qualify for the same as my neighbour/friend?
The system calculates the process for each household the same way. Each person has a unique situation and is kept confidential. We validate the information from your trusted conversation with AFT to decipher each person's level of qualification. Each household will have different income to electricity bill ratios.
Can I choose a refrigerator instead of a freezer?
We replace appliances that qualify for upgrades that are over 5 years old after the in-home assessment performed by our local contractors. The appliances you will get must be a replacement of a current appliance in your home within the determined budget provided by AFT. For example, you cannot replace a 25-year-old freezer with a new dehumidifier, but you can replace your 25-year-old freezer with a brand new, GE, Energy-Star freezer, if it qualifies for an upgrade.
Why haven't I received my level 1 kit in the mail yet?
The level 1 home energy kit is sent from the Toronto area and should arrive within 8-12 weeks time after your account has been validated. If your kit has not been received after this timeline, our customer care team would be happy to assist you.
If I rent a house or apartment, can I still apply for the program? Will I be eligible?
If the PUC bill is in your name and you pay the electricity bill, you are eligible to apply for the program. You need to have your landlord's approval to qualify and from there, depending on your income and your average electricity consumption, you may qualify for levels 1, 2 or 3.