The AffordAbility Fund
The Affordability Fund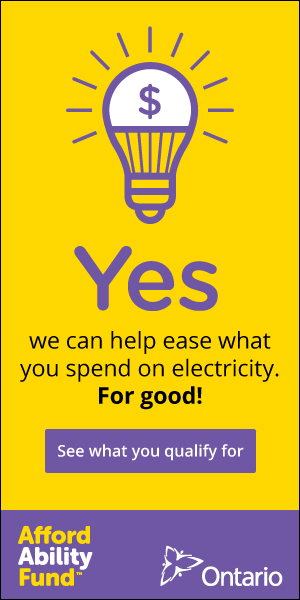 After July 31, 2020, the AffordAbility Fund is no longer accepting applications and we thank you for your interest in our program. If you require information on energy assistance programs that may be available to you, please contact your local electric utility.
PUC is committed to assisting customers with conservation efforts and supporting those who are struggling to pay their electricity bills.
If you do not qualify for the AffordAbility Fund, below is a list of other Ontario support programs to help ease your electricity burden:
1. Ontario Electricity Support Program (OESP)
2. The Save on Energy Home Assistance Program (HAP)
3. The Low-Income Energy Assistance Program (LEAP)
4. The COVID-19 Energy Assistance Program (CEAP)
Frequently Asked Questions (FAQs)
I applied for the AffordAbility Fund on July 31, 2020, am I guarunteed assistance?
If you called to apply before 8 PM or posted your application by 11:59 PM on July 31st, then your application will be processed, and you will receive a call from one of our advisors to determine which free energy saving measures you may qualify for.
Will I need to provide any personal information?
To qualify for Level 2 and 3 help, we will ask you to provide some basic information such as your total household income (for all members 18 years and older, after tax), your average electricity bill, and any late payment or disconnection fees you have paid. Your personal information will be kept strictly private.
The collection, use and disclosure of your personal information is kept strictly confidential and is only shared with your consent back to your electricity company. We are committed to data security and have processes in place to safeguard your privacy and the information collected.
Do I have to pay for upgraded installation?
No. If you qualify, all upgrades, including installation, are offered free of charge.
I have qualified for support. When can I expect to receive my free upgrades?
We thank you for your application to the AffordAbility Fund. Once you have had your Trusted Conversation with the AffordAbility Fund, your information is sent for account validation and then delivery. Depending on the level of measures for which you may be eligible, the timing will vary. We would expect that under normal circumstances, kits should be received within about 8 weeks, although it may take longer for more remote areas of Ontario. The scheduling of an in-home assessment may also take more time, depending on where you live in the province, due to resource availability.
How long does installation take?
The installation time varies based on the level of upgrades, your location and your local utility company. While most upgrades can be installed in a few days, some may take longer. Your utility will work with you to schedule a convenient time for any upgrades.
Will I lose the opportunity to participate if I delay my home inspection or delivery of energy-saving upgrades?
No. For those who apply and qualify, the AffordAbility Fund is here to help. For those who qualify for additional measures that include home inspections, please expect a delay in service.
Why is this program being offered?
This program helps Ontarians lower their electricity use and costs at home over the long term, easing the burden of electricity bills.
Who is offering this program?
The Government of Ontario established a $100 million AffordAbility Fund to assist electricity customers who do not qualify for low-income conservation programs. The AffordAbility Fund is funded by an independent trust set up by the Government of Ontario and offered to you by your local electric utility.