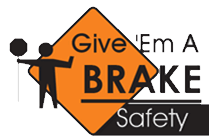 Work Zone Safety
Work zones are there because workers are improving utilities and road conditions. In the work zone, drivers will typically see cones, barriers, pavement markings and Utility equipment. Follow the work zone signs and other directions to get safely through.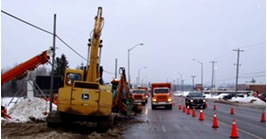 Give 'em a Brake
The Give 'em a Brake marketing effort encourages safe driving. The men and women working to improve your highways and utilities work just feet from live traffic, from inattentive drivers. These workers could be your family, friends, the moms or dads of your child's friends, the people down the street or the baseball coach.
It is not just the workers who face work zone dangers. More than 90 percent of all work zone incidents result in driver or passenger injuries. So when you are giving them a brake, you are also giving yourself a brake.

Work zone survival tips
Eliminate distractions.
Slow down, pay attention, and stay calm.
Try an alternate route.
Expect delays
Work Zones
Top three work zone accidents: rear-end collision with another vehicle, striking a fixed object, and sideswiping.
The two major reasons for work zone crashes: speeding and inattentive driving.
So slow down, pay attention, help protect the worker and yourself. Give 'em a Brake.