PUC Colouring Contest & Bike Giveaway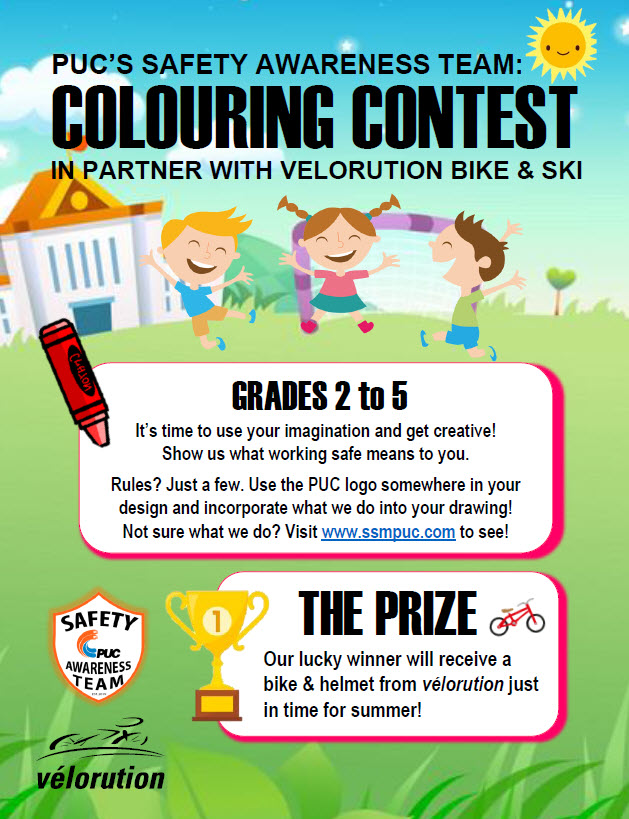 PUC's Safety Awareness Team has partnered with Vélorution with this exciting opportunity for children in grades 2 to 5. We are holding a colouring contest which will close on Friday, May 1, 2020.
RULES
Utilize the PUC logo somewhere in the drawing.

Show us what working safe means to you by incorporating what PUC workers do in our community.

Include student first name, school and grade on the front of their drawing.
For classes with students with the same first name, please include the first initial of the last name as well.

Title their drawing. Ex. Powerline Worker Climbs a Pole
*Please note that we may use some of this artwork in promotional material in the future.
THE PRIZE!
Our lucky winner will receive a bike & helmet from Vélorution just in time for summer!
PUC does many important things that you may not even know about: Making sure you have clean drinking water, building and maintaining power lines and sub stations to ensure your home has power, cleaning the water that comes from your showers, sinks and toilets, providing answers to our customers questions and concerns….
The winner of the contest will be announced in late May, once we have an opportunity to review all submissions.
If you have interest in participating, or have any questions, please contact Cindy at cindy.pruce@ssmpuc.com or (705) 759-6565. We can coordinate pickup of entries once they are completed.
We look forward to seeing what you come up with. For more information on what PUC does, browse through our website!